Llwynywermod Estate
March 25. 2019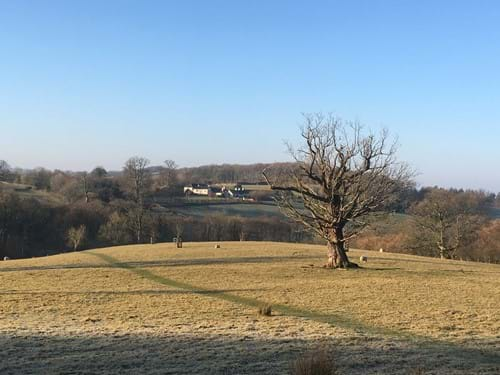 Such a beautiful morning today for a drive across Carmarthenshire and over the hills into Myddfai to get the house ready for our next set of guests.  We live about twenty minutes away from Llangoedmor House in an area of considerable natural beauty in its own right, but my heart always lifts as I pull out of the lovely little town of Llandovery and start the climb up to Myddfai.
Today, while he's enjoying the considerably stronger sunshine of the Caribbean, Prince Charles' beautiful Llwynywermod Estate looked particularly spectacular in the early Welsh spring, so I pulled into the lay-by there and hopped over the stile into the field to take a few photographs.  The farmhouse itself, where His Royal Highness stays, is a modest 3 bedroom building, and was renovated for him in 2007-2008.  You can still see the original country house, now a ruin, which was clearly, at some point, a most impressive building.
Footpaths cross the estate and there's great walking there - use the OS maps and the walking cards we have made for guests, both in the sitting room bureau of Llangoedmor House, to find your way.  As the photos show, the footpaths are clearly marked, though livestock is always kept on the land, so dogs will need to be on leads.